I was recently reminded of how easy it is to take the tap for granted, while visiting my sister and brother-in-law. The polar vortex tested their water line and won, at least temporarily.  That made for some tense times and a renewed appreciation for the convenience of running water.
If we consider that a gallon of spring water costs $0.99 at the grocery store, that equates to $990 per thousand gallons.  That's a hefty price when considering a person in the Midwest uses 116 gallons of water per day, on average, under normal circumstances.  Thankfully, public works entities around the country have done a good job of building and operating water and wastewater systems that provide services at a cost substantially less than $0.99 per gallon and in a manner that renders such services easily taken for granted.  We need to remind the public who benefit from affordable utility rates of that from time to time.
As systems approach the time of year for budget and rate-setting activities, it's worth mentioning the resources available for educating ratepayers as to the importance of water in everyday life, the cost to make clean and plentiful water available, and the overall value of the service provided.  Information provided by the American Water Works Association (AWWA) and Water Environment Federation (WEF) notes that the average cost of water and wastewater services in the Midwest are $4.45 per thousand gallons and $5.48 per thousand gallons, respectively.  This compares well with AE2S Rate Survey data from 2018 shown in Figure 1.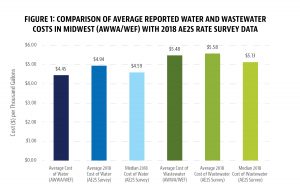 Figure 1: Comparison of Average Reported Water and Wastewater Costs in Midwest (AWWA/WEF) with 2018 AE2S Rate Survey Data. (Click to view full size.)
The difference in cost between bottled water and tap water is even more remarkable when the magnitude of infrastructure investment needed to provide water service at less than $5 per thousand gallons is considered.  Most systems have millions of dollars invested in pipelines and other buried infrastructure that is nearly invisible to the public, in addition to the treatment, storage, and pumping facilities that are visible across the landscape of our communities.  The concept of regular investment and/or reinvestment in these facilities to maintain the uninterrupted operational ability and overall system value are concepts not generally considered by rate payers.  As a result, ongoing public education practices can be very helpful in budgeting, capital and reserve planning, and rate-setting activities.
Every four years, the American Society of Civil Engineers (ASCE) compiles an assessment of infrastructure within each State and compiles Infrastructure Report Cards.  These State-by-State reports summarize the condition of existing infrastructure, estimate funding needs, assign a grade, and make recommendations for improving the grade.  Drinking water and wastewater are two of the 16 infrastructure categories evaluated by the ASCE.  Table 1 summarizes the most recent Infrastructure Report Cards for states in our region, along with the estimated 20-year funding needs.  Grades assigned range from "A" (Exceptional) to "F" (Failing), with "C" indicating that attention is required.  Individual grades for the Drinking Water and Wastewater Infrastructure were not available for the 2017 Report Cards.  To learn more about the Infrastructure Report Card for your State, including how to actively convey infrastructure funding needs to your legislators, visit https://www.infrastructurereportcard.org.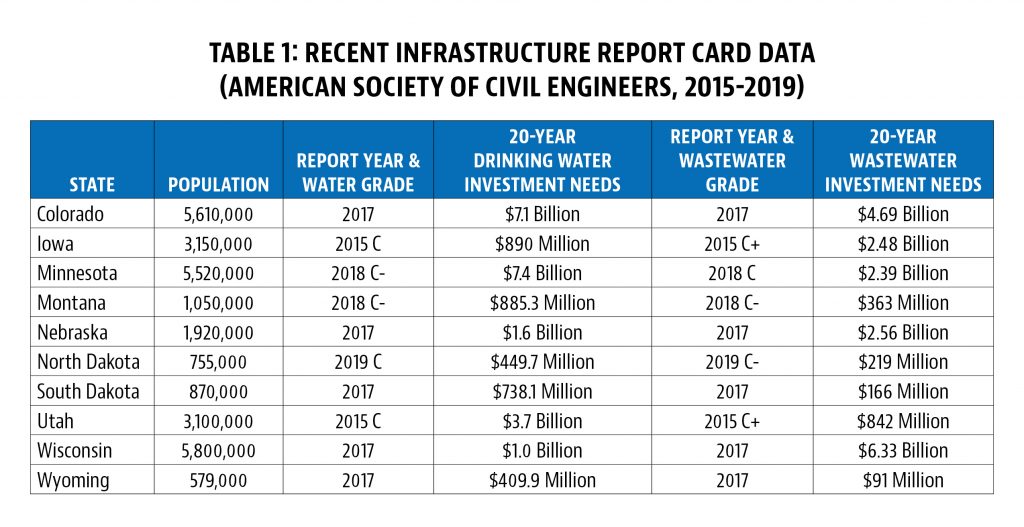 Table 1: Recent Infrastructure Report Card Data, American Society of Civil Engineers, 2015-2019. (Click to view full size.) 
Water industry groups have launched efforts to help utilities raise the profile of water use and value issues. Public and private water industry leaders have initiated a Value of Water Campaign to promote the need for investment in water infrastructure.
The Value of Water Campaign holds an annual Imagine a Day Without Water event each fall.  Municipalities, private companies, and non-profit organizations from around the country can participate through various local events and social media initiatives.  On October 23, 2019, the fifth annual Imagine a Day Without Water event will be held. Systems are encouraged to check out resources available for the annual event, as well as through the other water industry websites linked in this article.
When my family experienced an unresponsive tap during the polar vortex, we were definitely reminded of the value of water. The experience also underlines the importance of supporting the organizations working to ensure the continued availability of this precious resource that is so often taken for granted.