Data for the 2017 Annual Utility Rate Survey was solicited from utilities in Iowa, Minnesota, Montana, Nebraska, North Dakota, South Dakota, Utah, Wisconsin and Wyoming. Solid waste (curbside garbage collection and related services) is an important component of City Services.
Curbside trash collection charges were reported by 126 of the 285 respondents, approximately 44 percent of the respondents.  A summary of the breakdown of reported monthly values is shown in Figure 1.  Reported monthly charges ranged from $1.00 to $46.50. Data represented in Figure 1 was provided by systems ranging in population from 100 to 413,000.
Figure 1: Reported Monthly Solid Waste Charges from 2017 Utility Rate Survey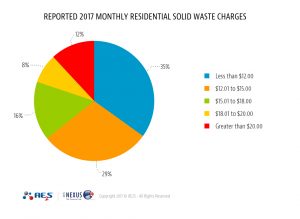 Landfill charges for municipal solid waste have also been a statistic of interest to survey respondents in the past.  This year 38 out of 285 respondents reported municipal solid waste data. Based on the 38 respondents, the average and median charges per ton were calculated at $50.97 and $42.75, respectively. Figure 2 illustrates an overview of the cities who reported data. Figures 3 through 7 illustrate solid waste rates by state.
Figure 2: All Reported 2017 Municipal Solid Waste Rates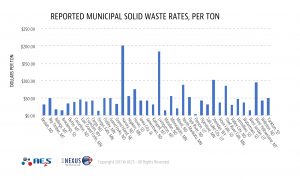 Figure 3: Reported 2017 Municipal Solid Waste Rates – Minnesota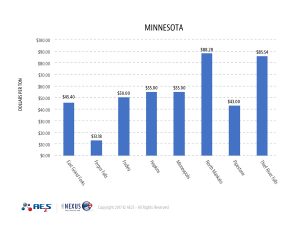 Figure 4: Reported 2017 Municipal Solid Waste Rates – Montana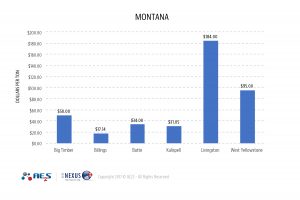 Figure 5: Reported 2017 Municipal Solid Waste Rates – North Dakota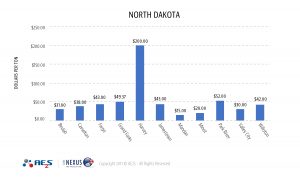 Figure 6: Reported 2017 Municipal Solid Waste Rates – South Dakota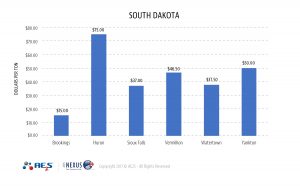 Figure 7: Reported 2017 Municipal Solid Waste Rates – Iowa, Nebraska, Utah and Wyoming